Spring has sprung, bringing with it our newest release of OfficeWriter: OfficeWriter 8.5!  What's in store for this maintenance release? Scroll down to see the latest additions our development team has been working on.
WordTemplate – Embed DOCX files into templates
In OfficeWriter 8.0, we added the ability to embed RTF or HTML documents in Word files with WordTemplate.  The feature uses the document modifier to signify that a RTF or HTML document will be inserted. To learn more about using the document modifier, see our guide on inserting an embedded document under our WordTemplate Tutorials.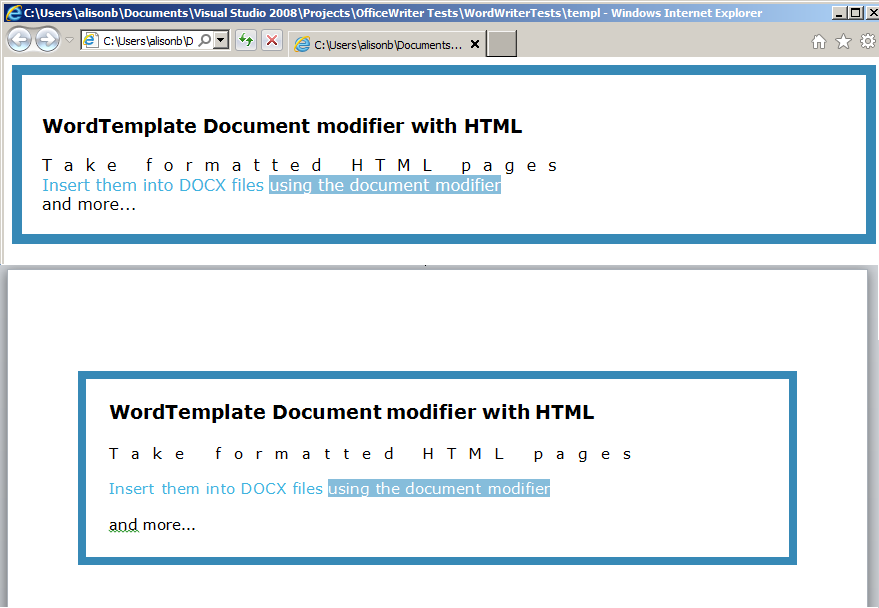 We have also extended the feature to include DOCX files. Now you can embed other Word documents into your WordWriter templates.

ExcelTemplate – Populating tab names
As of 8.5, you can put data markers in worksheet tab names. Same syntax, same functionality as regular data markers, but in tab names. It's even compatible with Reporting Services!

ExcelApplication – Formulas From Excel 2007-2013
In this release, the development team crunched out support for writing, parsing, and updating all the new formulas added in Excel 2007, 2010, and 2013 formulas in ExcelApplication.
Other highlights
More ExcelTemplate and WordTemplate properties can be set globally in Reporting Services
More flexible formula parsing in ExcelApplication
To see even more features and fixes in this release, please review our change log.
To try out the latest version of OfficeWriter download a free evaluation.
Related posts: