[Stories from the Women in Tech Trenches is a series of posts exploring the personal stories of real women in technology. Every woman in tech overcame, at the very least, statistical odds to be here; this blog series aims to find out why, and what they found along the way. This week we met up with Wendy Neal, belovedly known in the SharePoint community as SharePointWendy. If reading her story inspires you to share yours, please email me.]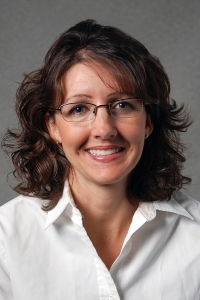 I started my career as a web developer, and when my current company brought SharePoint into the organization in 2007, I was completely hooked. I like to blog about my SharePoint experiences, and enjoy speaking at user groups and conferences to share what I've learned over the years.
1. Can you take us back to your "eureka!" moment—a particular instance or event that got you interested in technology?
I'm not sure there was one single moment where the light bulb turned on and I realized I wanted to pursue a career in technology.  I do remember taking a BASIC computer programming class in high school and thinking it was kind of neat.  I even wrote a couple simple video games for fun.
It wasn't until I was working as an office manager for a small electronics company in the mid '90s that I realized I really enjoyed working with computers, and more specifically, creating websites after I built the local office website.  The whole Internet thing was brand new, and it fascinated me.
I knew I wanted to create websites, however I didn't have a bachelor's degree, so I wasn't getting any job offers. I decided to go back to college to finish my degree. I declared my major to be Computer Science and attended school part time for the next 3 years while working full time until I obtained my degree.
2. Growing up, did you have any preconceived perceptions of the tech world and the kinds of people who lived in it?
I don't think I had many preconceived notions about the world in general back then. I grew up in a small town in rural Iowa and probably had no idea what was going on in the world around me. I only knew a couple people who worked in the technology field and I had no idea what they did. Besides, I was too busy planning my career as a professional football player (in elementary school), and after that I wanted to be a pro beach volleyball player (high school).
These were also the pre-internet days, and my family didn't even have cable TV until I was in high school.  The fact that I didn't know any better was probably one of the reasons why I didn't have any reservations about pursuing a career in technology once I finally realized that was the direction I wanted to go.  I just decided that's what I wanted to do and I did it.
3. As a SharePoint architect, reputed speaker, and evangelist, what led you to this career path? When did you first start working with tech? Was it by choice?
My first job upon graduating college was working as a web developer for a company that provided clients with stock market web sites and solutions.  I loved it!  I worked with Microsoft's classic ASP and also did a little SQL and JavaScript programming, then moved to ASP.Net when that first came out.  After four years at that company, we got purchased by another firm and they closed the office that I worked at. 
I then started working for my current employer, GreatAmerica Financial Services, starting as a Microsoft .Net software developer, then gradually moving into the world of SharePoint Development.  Eventually I was doing nothing but SharePoint-related work on a daily basis, including development, branding, administration, and even training our users.
I became heavily involved in the SharePoint Community in the summer of 2011.  The people I had admired from afar up to that point, who gave their time endlessly, really inspired me.  I wanted to give back and help others like those who have helped me over the years; so I started a blog, which led to writing articles for prominent SharePoint sites like NothingButSharePoint.com, and then to speaking at user groups and conferences.  I'm even currently working on an upcoming jQuery and SharePoint book.
4. Did you experience any personal or systemic setbacks at any point of your academic or professional career?
It seemed I had always had weird health issues off and on since I was a teenager that no medical doctor could ever diagnose. In the fall of 2009 my symptoms manifested, and I became very ill and missed about a month of work. I had never felt so horrible in my life. I think it was by sheer will and my fear of hospitals that I forced myself to start eating and slowly regained my strength. Thanks to a wonderful naturopathic physician I was finally diagnosed with multiple food allergies and hypothyroidism. Now, with a simple change in diet to eliminate my food allergens, and a few natural supplements to control my hypothyroidism, I feel like a new person.
I also feel that being physically and mentally healthy for the first time in so many years opened new doors for me.  It boosted my confidence levels and allowed me to venture down the road of public speaking.  I felt like I could try new things and not have to worry about canceling plans or backing out at the last minute for feeling sick.
5. Whom do you look to as mentors and/or sources of inspiration?
One of the people I admire most is my late Aunt Wanda. She fought various forms of cancer for over 17 years, eventually succumbing to the disease in 2000.  Many times she was told by doctors that she only had months to live, and she fought to stay alive each time. And she did it all with a positive attitude; I never saw her in a bad mood, no matter how miserable she was feeling due to her illness and treatments.  It has taught me that the mind is very powerful, and that you can literally do anything if you set your mind to it. Even when people tell you otherwise, if you believe then you can.
6. Why do you think the rate of attrition for women in software engineering is higher than that of women in most other tech fields?
I think it's because the ratio of women to men working in the software engineering field is extremely low, even lower than some of the other tech fields. For example, I'm the only female on our team of eight developers. I think a young woman starting out in this scenario can feel isolated and alone at times. If she has no female mentors or role models to look up to, she may feel stuck as far as understanding how she can advance her career. Often times a man will get promoted after he saves the day or performs some other heroic feat for the company. Women, on the other hand, have a fear that if they make a mistake they'll be demoted or devalued, so they build systems that don't crash in the first place. This is great; however, they rarely get recognized for that fact, which can leave them feeling unappreciated and unnoticed when promotion time comes around.
7. Do you have any suggestions for how to get more girls interested in computers and computer science? Is this important to you?
I think there may be a misconception among girls that all careers in computer science are either hard or boring or that computers are just for geeks.  If girls knew that there were many opportunities out there besides the perceived "geeky" jobs like programming, it may open their minds to the computer science field.
I think education and mentorship at a young age are the key to getting more girls interested in technology.  In my opinion all girls should take an intro to computer programming or engineering course in high school.  They may realize it's not quite what they thought it was.
8. Do you have any advice for women interested in computers and computer science? Is this important to you?
I'd say go for it, and don't let anyone hold you back!  Don't listen to the naysayers, and just do it if that's what you love. The technology field definitely needs more women, because they bring a unique perspective and diversity to the workplace. Women are typically good at multitasking and relationship building, and having more women in the industry also brings more viewpoints to the table. Hopefully companies are recognizing this and trying to recruit more women into computer and technology roles.
9. Do you have anything to add that you haven't had a chance to mention?
Don't be intimidated by the possibility of working in a "man's world."  Especially if you want to be a developer. You will likely be one of a few women, if not the only one, working on a team of men. Be comfortable with that. Don't be afraid to speak your mind and hold true to your convictions when you think you're right. Your coworkers will respect you for that. And if they don't, then you're probably working for the wrong company. Find a company that has integrity and supports a diverse work culture, or start your own.