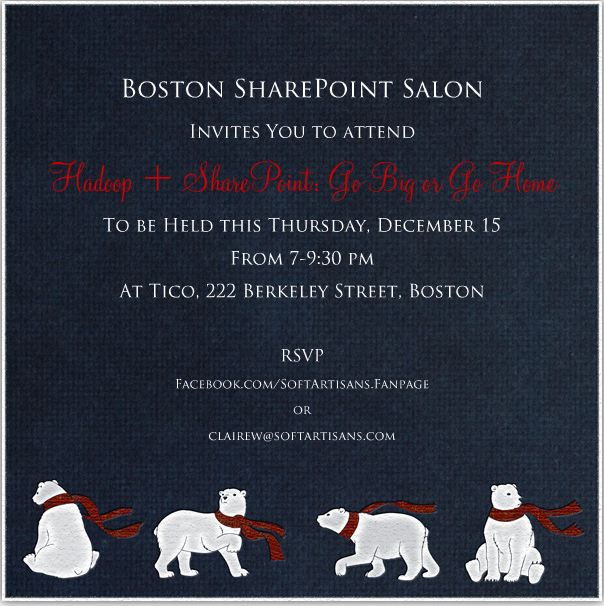 Big as in data, home as in "out of business." Because there's only going to be more data, and people are finally realizing that not only can it be sliced and diced and visualized in formats comprehensible to the business analyst—it needs to be. The questions are: how should it be stored and queried and where should the visible representations of these queries be displayed?
Hadoop, Apache's open source, distributed computing and storage framework based on Google's MapReduce model is one answer to the first question. Or you could buy a supercomputer, but, those are kind of expensive! And less fun to say!  As for the second question, of course the answer depends on the type of data. As this is a SharePoint-focused Salon, though, I'm going to nominate SharePoint as one potential answer. Why? Well, Microsoft's new Big Data Solution will put enterprise Hadoop solutions on Azure and Windows Server, including the now available SQL Server Connector, which lets you transfer data between Hadoop and SQL Server.  So, if you plan on upgrading to SQL Server 2012, you'll be able to access data stored in Hadoop from SharePoint, and do all your slicing and dicing and displaying in PowerPivot and Power View. Presumably.
Interesting, no? We think so. If you agree, please join us at Tico (Berklee Street) this Thursday, from 7 to about 9:30 pm. You can RSVP here, or email me! And if you can't make it, but know someone whom you think should attend, please spread the word!