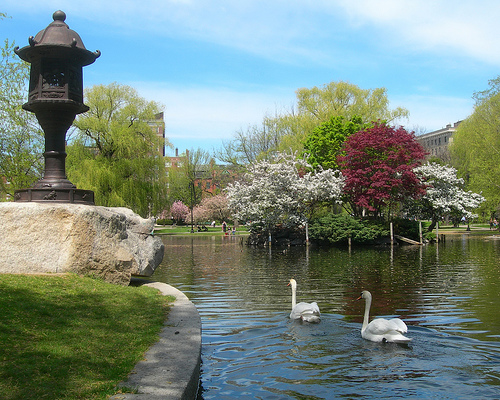 SPTechCon is looming, the SharePoint community is booming, and, here I'm zooming in on a few of the Hub's not-to-be-missed activites. Because everyone needs a at least a little r&r between sessions. And because my hometown is a pretty swell city—it's very walkable, aesthetically and gustatorially pleasing, and, yes, crammed with people who sound like extras from The Departed (you can usually identify them by their ever-present liter of Dunkin' and their well-worn Sox sweatshirts). I've divided them by time of day, and kept most of them in or close to the Back Bay, but remember: for all its blessings, Boston is also a city cursed with subways that stop running at 1am, bars that close at 2am and sky-high cab fares.
Morning:
1)      The Banks of the River Charles
a.       Neighborhood(s): all over
b.      Why:  Runners (and walkers and city planners), welcome to paradise. Boston offers many fantastic runs, the most obvious, and picturesque place to run is along the Charles River, which separates Bostonians from Cantabridgians and offers a uninterrupted views of both cities' skylines. You can hop on and off from almost anywhere, but, if you're a breakfast sandwich afficianado, you should end at the Boston Common, and proceed to no. 2:
a.       Neighborhood: Bay Village
b.      Why: This wee slice of a breakfast/luncheonette makes the city's best sandwiches. This is according to more renowned palates than mine, but you can't go wrong with the fried green tomato BLT, the bacon and egg fancy (fried egg, cheddar, avocado, caramelized onion), the grilled banana and nutella sandwich and the breakfast torta. Weekends, the line snakes up the cobblestoned street, but on a weekday, you should be fine.
Noon:
1)      Elegant Engimas at the Boston Athanaeum
a.       Neighborhood: Downtown
b.      Why: I know, I know—the last thing you want to do after a morning of larnin is go poke around a gallery, but you've got to trust me on this one. Edward Gorey is the uber-macabre children's book author and illustrator whose noir Edwardian aesthetic inspired everyone from Tim Burton to Lemony Snicket. This exhibit is full of unfinished sketches and drawings from classics like The Gashlycrumb Tinies, The Inanimate Tragedy and The Dwindling Party, and, for the etymologists, sheets of Jaberwocky words. This is Enigma's last week at the Athaneum, a glorious 19th century mansion overlooking (appropriately) the cemetery in the Common, which in itself is worth a visit. There's a suggested donation of $5, and a tiny gift shop where you can pick up your own copy of Gashlycrumb Tinies.
a.       Neighborhood(s): South End, Downtown, Harvard Square, Kendall Square
b.      Why: The Boston food  truck scene is slowly picking up steam—and by that I do not mean hot dog water. My absolute favorite carts are Clover Food Lab's, which offer inventive vegetarian sandwiches, fun potables and snacks. If you like falafel, you have to try their "chickpea fritter;" if you don't, the egg+eggplant and the barbeque seitan are also lovely. Yes, apparently seitan can be lovely. Whatever you get, be sure to round it out with rosemary fries and a whoopee pie.
Afternoon:
1)      Duck Tour
a.       Neighborhood: all over
b.      Why: Yep, I went there. Duck Tours are for tourists and school children; they take place on old WWII duck boats; they are always navigated by jocular, heavily-accented natives, and they allow you to visit the city's historic hotspots (Old North Church, Bunker Hill, the Make Way for Ducklings statues, U.S.S. Constitution) and waterways (bring a rain jacket).
2)      The Marliave
a.       Neighborhood: Downtown
b.      Why: Dollar oysters from 4-6. Fourth oldest restaurant in Boston. Pre-prohibition cocktails with housemade syrups. Nuff said?
Night:
a.     Neighborhood: Kendall Square
b.    Why: You probably won't find The Hangover 2 here, but you will find new and limited-run documentaries (I just saw Morgan Spurlock's Pom Wonderful Presents: The Greatest Movie Ever Sold), indies, foreign films and cult classics. Unlike the dear old Brattle, Kendall is huge, and has more than one showing a day. They also validate parking, if you don't want to take the T.
2)     Tico
a.     Neighborhood: Back Bay
b.    Why: Normally I'm not a big fan of the whole small-plate thing, but for Tico, I'll make an exception. The formula is top-notch ingredients (local produce, grass-fed beef, I-don't-know-what-it's-fed-but-dear-god-it's-heavenly pork) + Mexican flavors (lime, cilantro and adobo feature heavily) + 88 tequilas, pitchers of sangria, and fun, summery cocktails. If you order cava, it comes in something that looks like the lamp from Aladdin. Whatever else you get, be sure to order the brussel sprouts + kumquats +bacon and the pork belly tacos. #lifechanging
Whew! That's all for now, but please feel free to chime in with your picks in the comments!
[Photo Credit: Philocrities]
Related posts: