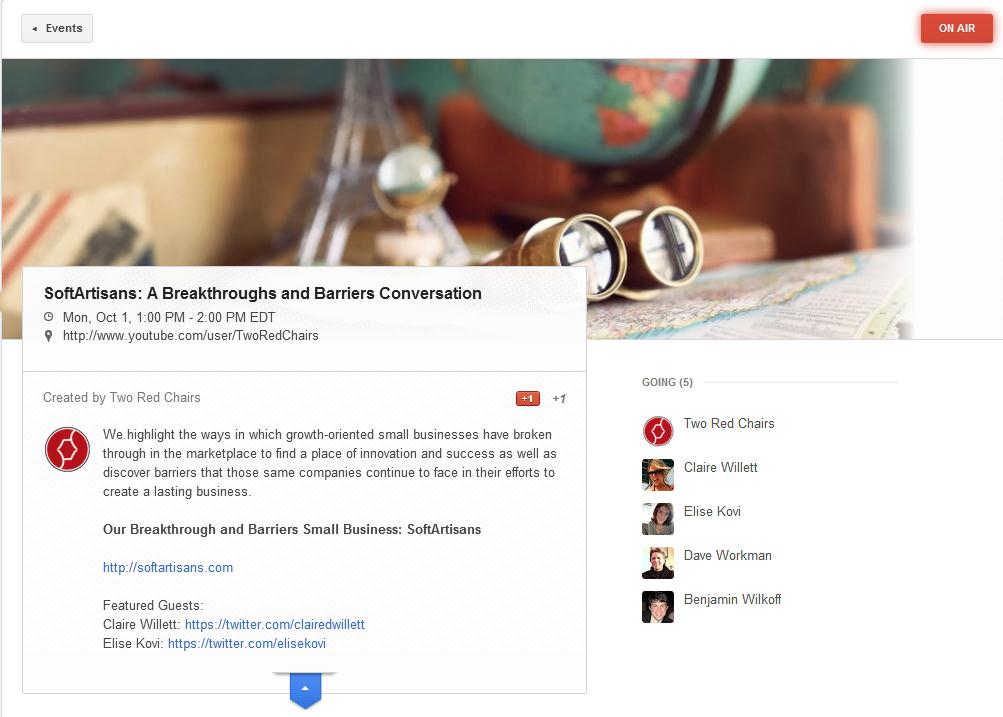 We're hanging out with 2 Red Chairs Monday, October 1, at 1 p.m. EST to talk about the challenges and accomplishments associated with being a small business. Plus, we'll give you a deeper glimpse into the inner workings of SoftArtisans and our newly incubated company Riparian Data.
What: Google + Hangout with Two Red Chairs
The Topic: Breakthroughs and Barriers
When: Monday, October 1st, at 1 p.m. EST
Details: Link to join the discussion: http://artsn.in/OXI8Ub 
Who: 
SoftArtisans & Riparian Data
Claire Willett – Marketing and Development
Elise Kovi – Social Media and Content Manager
2 Red Chairs
David Workman – Owner at Northstar Knowledge, Inc
Ben Wilkoff – Learning Experience Designer
You
Who is 2 Red Chairs? 2RC is an Innovation and Learning company focused on working with growth-oriented businesses. You can find more information on their company and what they aim to do through their G+ account, Youtube channel, and Twitter.
**If you saw binary code when you looked at this date, then you definitely need to tune in. Even if you didn't, we'd love to see you there.
Share the post "Google + Hangout with 2 Red Chairs Monday, 10/1 at 1pm EST"
Related posts: