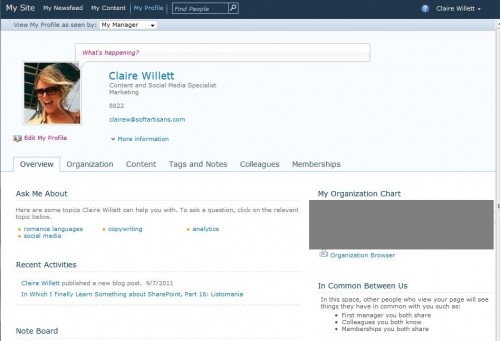 Microsoft has this sporadic obsession with co-opting generic words. Sometimes they pick words so general they obscure their entities' functions, and sometimes they pick words that are already incredibly common in our vernacular. The poor My Site exemplifies the latter technique, made even more inane by its possessive pronoun.  You could argue that the pronoun works as an indicator of the My Site's purpose, but I will counter that argument with: my My Site is so much cooler than your My Site, but less cool than her My Site.
Gross.
Anyways, behind the silly name lives a pretty useful product: a space that houses your personal effects, makes searchable your abilities and interests and notifies you of colleagues' relevant activities. My Sites have a private side made up of your newsfeed and personal documents, and a public side made up of your blog, shared documents and profile. Your newsfeed and profile are stored on the My Site Host site collection and your content is stored on your individual My Site site collection, but you access them all from the same place.
Your My Network
When you navigate to your MS, you'll be dumped on your Newsfeed, which tracks the public SharePoint activities of any colleagues you're following, kind of like a Facebook wall. You add/remove colleagues to follow by clicking "My Colleagues" from your Newsfeed. You edit your other Newsfeed settings (interests, email notifications, types of activities followed) within your "Edit Profile" settings.
Your My Content
All of the documents and images you upload and blog posts you write are kept here. Documents can be uploaded to a private library ("Personal Documents" or a public library "Shared Documents." If you haven't set up your blog yet, you can create it within My Content. You can also add other web parts to this page—I added a links web part with links to some of my colleagues' mysites, the marketing team site and the companywide portal.
Your My Profile
If you work for a big organization, this is the My Site's most useful component. By default, it has space for your job title, status updates, contact information, topics you'd like to be asked about, recent activities, where you fall in your team's organization chart, and things you have in common with a given viewer (eg you and Barnum Smith are both members of the StarCraft All-Stars Club). Each field's contents is indexed by SharePoint's search engine, so if I need to find a colleague who knows Tagalong, I can just search "tagalong" and the relevant employee(s) will pop up.  Different people within your company will see different portions of your profile; you can see what is visible to whom by choosing from the list of options under "View My Profile as seen by."