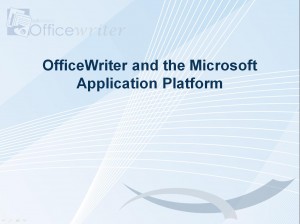 Curious to know more about how OfficeWriter fits in with the Microsoft Application Platform? We've partnered with Andrew Brust from Blue Badge Insights to bring you an overview of the additive value OfficeWriter provides to the Microsoft stack.
In this powerpoint:
You'll learn about OfficeWriter's object and template models
Scenerios in which to use OfficeWriter
How OfficeWriter plays into Microsoft Dynamics, SharePoint, and Azure
Share the post "OfficeWriter and the Microsoft Application Platform"
Related posts: