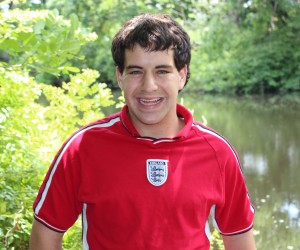 This is the third installment of our Intern Diaries series, wherein each week our lovely interns try to give you the inside scoop on what being a programming intern at a high-tech startup is really like. [To read part 1 and part 2.] This week Shane walks you through what to look for when hunting down that perfect internship.
As I enter my final stretch (three weeks left), I've been trying to really internalize all of the different things I've learned. I learned about everything from teamwork to fooseball to the stair climbing habits of cows. I even learned a drop of computer science (shocking, I know!).  So, as I prepare to go back to school and restart the whole internship search, here are the top 4 things I learned for all those other intern-hopefuls.
1. Small Companies Rock!
I had never really understood the difference between small companies and big companies (besides size, of course). Yeah, you may not ever talk to the CEO or know everyone's name, but you still have your team or department where you get a sense of community. I guess I don't really have much to compare it to, but in my few months I felt like I was really part of the team and, more importantly, I began to really want SoftArtisans to do well. I didn't work hard because it was expected of me. Rather, I worked hard because I truly cared about the fate of the company.  That made my work here that much more enjoyable and rewarding.
2. Utilize and Understand Tools.
Coming in, I had not heard of any of the tools I've used. Now I use them every day. I couldn't have done a thing without them. When you get to an internship, you'll hear about a bunch of possible tools. Pay attention! The faster you master and understand your tools, the faster you get up to speed and the more rewarding the experience will be.
3. Understand the Context of What You're Doing.
I've worked on a few different tasks here and sometimes I would lose context of what I was working on. When you don't understand why you're solving a problem, it is sometimes difficult to find the correct solution. Perhaps you need the simplest solution that solves most cases. Maybe you need to make sure you can account for every possible scenario. When you don't understand the 'why,' you can get the 'how' wrong.
4. Look for Trust.
This is definitely my most important takeaway. When looking for an internship, try to find one that will trust you. To me, that means looking for a place that lets you work independently on real projects or investigate new research and new opportunities. I've heard some bad stories (and good ones too!) from my friends at other internships where they do nothing all day. They'd be happy to do work, but their employers didn't really expect much from them.  Here, I was given my first bug on my first day. They weren't joking around.
Related posts: