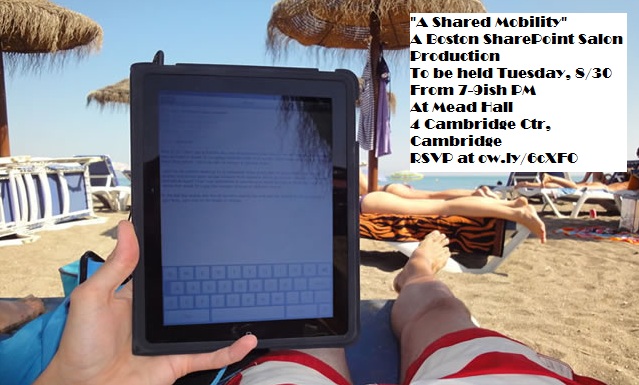 Technology-wise, ours is a nebulous world, but mobile's increased prominence is one point of certainty. It's not hard to imagine using our phones to unlock our apartments, start our cars, buy our groceries, record our sleep rhythms, yell at our significant other when he opens that container of Chubby Hubby… And on the business side of things, an increasingly accessible workforce translates into an increasingly accessible workspace. More and more workers have a need for a mobile replica of their brick-and-mortar office: they need to be able to do things like read and approve documents, fill out forms and assign tasks on the fly. In SharePoint, we have a potential vehicle for an empowered mobile workforce, but at this stage, both in-house and third-party offerings are underdeveloped.
In this, the second Boston SharePoint Salon, we'll be discussing these offerings and what functionality they do and do not and should and should not provide. We're also planning to talk about security concerns, development platforms, the possible impacts of Office365 and whatever else comes to mind. In light of the I'm banking on some interesting tangents.
The BSS will be held this Tuesday, August 30th from 7 to roughly 9pm at Mead Hall in Kendall Square. All local and visiting SharePointers are welcome, and you can RSVP on the event's facebook page.
Related posts: