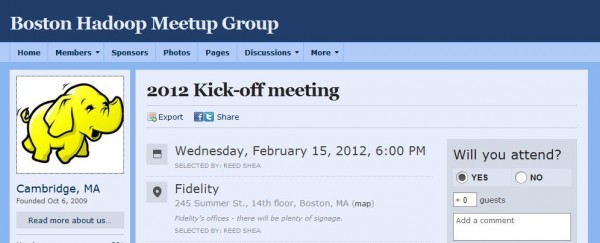 Heheh. But seriously, if you live in the Boston area and are working with Hadoop, or interested in working with Hadoop, or just think the name is fun to say, you should absolutely clear your calendar the night of February 15. Why? Because it's the first Boston Hadoop Meetup Group since November, and judging by the presenter line-up, it's going to be a doozie (or an Oozie, if you want to get all topical).
First up, MapR's Chief Application Architect Ted Dunning (t|l) on using Machine Learning within Hadoop. I'm really excited about this one.
Second, Cloudera Systems Engineer Adam Smieszy (t|l) on integrating Hadoop into your existing data management and analysis workflows.
Last, Hadapt's CTO Philip Wickline (t|ln) "will give a high-level discussion about the differences between HBase and Hive, and about transactional versus analytical workloads more generally speaking, and dive into the systems required for each type of workload. "
Each talk will run about 15-20 minutes, with time for Q&A after, followed by (free) beer and mingling.
The Boston Hadoop MeetUp Group is organized by Hadapt's Reed Shea (t|l). Hadapt is doing some very very cool stuff with unstructured and structured data processing and analytics–cool enough that founder/Chief Scientist Daniel Abadi took teaching leave from Yale to turn his research into a product.
This particular MeetUp is sponsored by Hadapt, MapR, Cloudera and Fidelity, and is being held at Fidelity's downtown office, from 6 to about 8:30 pm. For more information and to sign up, visit the event page.
See you there!