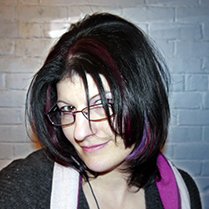 [This is the ninth in a series of posts exploring the personal stories of real women in technology. Every woman in tech overcame, at the very least, statistical odds to be here; this blog series aims to find out why, and what they found along the way. This time around we chatted with Abby Fichtner (t|ln), better known as Hacker Chick for her devoted work with Boston startups. Recently named Founding Executive Director of hack/reduce, a non-profit big data hacker space, Abby is in constant search of shaking up conventional wisdom and finding out what lies beyond. If reading her story inspires you to share yours, please feel free to email me.]
Hi! I'm Abby Fichtner – although more people probably know me as Hacker Chick. I write The Hacker Chick Blog on how we can push the edge on what's possible, and I'm about to launch a non-profit hacker space for big data called hack/reduce.
Prior to this, I was Microsoft's Evangelist for Startups where I had the most incredible experience of working with hundreds of startups. I've been alternately called the cheerleader and the guardian angel for Boston startups. I love this community and am super excited to launch hack/reduce to help Boston continue solving the really hard problems and keep our title as the most innovative city in the world.
Questions:
1. Can you take us back to your "eureka!" moment—a particular instance or event that got you interested in technology?
I like to joke that programming is in my blood.  My Dad has been programming since the 1960's and my brother followed him into Computer Science. So when we were kids, my parents told us that whoever made the honor roll first would get an Atari. This was 1980 and so Atari game machines were The Thing to have.
Sufficiently motivated, I made the honor roll and my Dad came through – with an Atari 800, the PC!  Pretty much nobody had PCs in 1980, so this was pretty elite. For games, we got these Atari magazines that had pages and pages of source code in them and our father-daughter bonding experiences were typing in the machine language to build our own games. Talk about hard core, right?!
2. Growing up, did you have any preconceived perceptions of the tech world and the kinds of people who lived in it?
Growing up I did not want to be a programmer! I thought that was something my Dad and my brother did. I was an independent woman and going to follow my own path. I heard that if you're really good, they make you a manager. So my goal was to be on the business side of things. Continue reading Stories from the WIT Trenches: Abby Fichtner →