Headed to SXSW this year? Well, you're in good company. So is our partner company Riparian Data. Not only are they unveiling their new email app, Gander, they're on a mission to synthesize the latest and greatest innovations and A-list after parties in one pithy newsletter. Check it out here and get a SXSW preview below.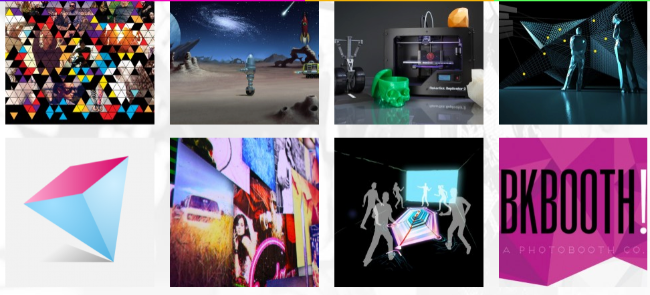 ​Image via FEED
Author: Claire
At standup today (cuz we scrummy like that), Christina said that one of the things she needed to do was to sign up for SxStuff.
To which I said, in my head and on this here blog, "bout dang time, girl."
To which she said, in real life, "but there is just so much stuff—it's overwhelming."
As the type of person who eschews the Bloomingdales and Barney's Warehouse sales for shoebox boutiques selling three variations of sailor shirts, I feel her pain. Sooo, I went and compiled a list of Stuff You Ought Not Miss. A couple lists, actually—one for our newsletter (sign up here!) and one for the blog. The latter is more of a potpourri, but it's a kicky one, je vous promis.
Non-perMissable sessions:
1. Open-source Empathy: Humans as Dynamic Systems
Why: It's about our resistance to interpersonal connection, through the lens of media system interaction. I think.
2. Creating a DIY API: Open Source for Makers
By: Kate Covington (t)
Why: Open source fashion sounds like an awesome way to stick it to a) LVHM and b) counterfitters. Why buy fake when you can make?
3. Hacking Cities for a Better, Sustainable Tomorrow
By: Abhi Nemani (b t), Bryan Walsh (b t), Erika Diamond (in), Rachel Haot (t)
Why: Community-driven digital and technological engagement is a cheap and effective way to improve cities, and learning about some of the civic-improvement apps from some seriously smart, keyed-in citizenry seems like a good way to kickstart innovation in your community.
4) Is There an Alternative to Ad-Supported Social Networking?
Why: Last year, Caldwell published a critique of ad-supported social networking, and proposed a subscription-based, ad-free solution. Then he built it. While I have to confess I haven't managed to make App.net part of my daily routine (unlike Quibb), I'm eager to hear what Dalton has to say about it.
5) Industrial Revolution 3.0 and the Future of 3D Printing
Why: If 3D printers really are the harbinger of the next industrial revolution, I want to know more about them and they impact they'll have, and if I should like, take a hardware engineering class or something. And who better to tell me than Wired's senior editor and Shapeways' CEO?
​
Girrrl, you don't go to Sx for the sessions, you say. Fiiinnne, you want parties? Here are some of the best (and booziest).
Non-perMissable parties:​
Host: Twilio
Why: For one, I appreciate the dev-friendly hoop  Twilio makes you jump through to get an invite. Code is the real clout, people—just ask Chris Bosh. Also, Akron/Family is a terrific winsomey shimmer-float band, and they're performing live. Also, with all the nighttime events, a lower-key afternoon bash sounds really relaxing.
2. DeadSocial SXSW Launch Party
Host: DeadSocial
Why: Because it's being held at something called the Museum of the Weird, and you have to find your way to the party, which sounds like a nice cross between Mixed Up Files and Devil Wears Prada.
Host: GroupMe
Why: The headache-inducing invite features the photobombing sting ray, which I'm really hoping is the guest of honor. Other, more musically inclined guests include RAC, Tim Sweeney, and Viceroy.
Hosts: Tech Cocktail, CEA, .CO, Yappem, Treeswing
Why: In the (off?) chance you'd like to learn about new startups and their products, Tech Cocktail has rounded up 30 of them, and added booze to aid in your perusal. There are interviews til 4, a DC Tech Meetup from 2-4, and a mixer and showcase from 7 til the cows home home. I hope there really are cows in Austin, regardless of their homecoming skills.
5. The Get #NakedSocial at #SXSW
By: Social Media Monthly, R2i, Naked Wines
Why: 6 hours of swilling wines, plus a $50 gift card to NakedWines.com.
6. @Night hosted by Made in NY: Austin
Why: The Rapture DJs, Moon Boots, a Funktion One soundsystem.. it's like Santos' but cleaner, with free tequila.
Share the post "The Robots Can Have the World, Just Let Me Keep Drinking in It (a SXSW Countdown of sorts)"
Related posts: