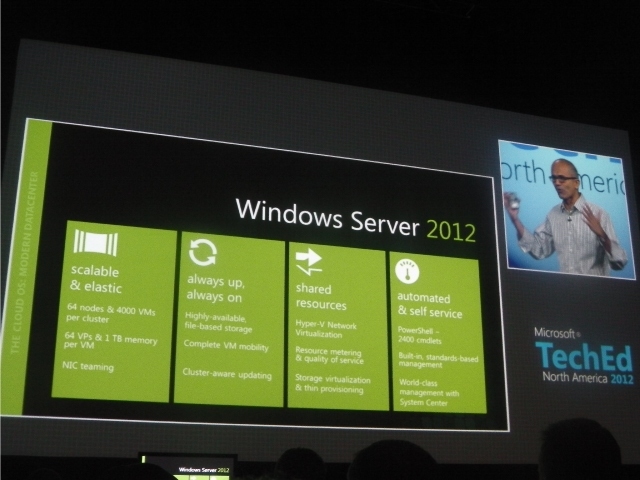 The 20th anniversary of Microsoft's TechEd North America kicked off with a keynote showcasing Windows Server 2012, Windows Azure, Visual Studio 2012, and SQL Server 2012.  They should have renamed it the Windows Azure hour, though.
A cloud-based infrastructure back end was included in 90% of the demos. These demos included:
System Center 2012 migrating virtual machines seamlessly from a local data center to 3rd party service provider
The process of creating virtual machines in Windows Azure
The act of deploying web and mobile applications to Windows Azure directly from VS 2012 with one click
Using SQL Server 2012's Powerview to break down 140,000 movie tweets (I believe stored in a Hadoop cluster on Windows Azure though the presenter was unclear) into useful information for a movie theater owner looking to maximize revenue.
Of all the demos, the last demo (Powerview) was my favorite because of the clear business use case. Azure now supports a couple of Linux distributions. Microsoft will be competitive as a Windows IAAS provider, but I don't envision Microsoft capturing market share by incorporating Linux into Windows Azure.
The Good: Microsoft's cloud push, Powerview demo
The Bad: Using apple emulators with Visual Studio, Linux on Windows Azure, demo gremlins
The Rating: All that said, I'd give the keynote a 3/5.
Share the post "Microsoft's TechEd North America 2012 Keynote Recap"
Related posts: