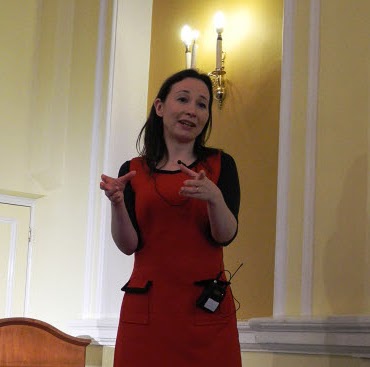 [This is the eighth in a series of posts exploring the personal stories of real women in technology. Every woman in tech overcame, at the very least, statistical odds to be here; this blog series aims to find out why, and what they found along the way. Author of a prestigious BI blog, Jen Stirrup (t|ln), runs a small Business Intelligence company (Copper Blue Consulting) with Allan Mitchell (t|ln) and is an active member of the SQL Server community. If reading her story inspires you to share yours, please email me.]
Meet Jen:
"I have been a SQL Server Most Valuable Professional (MVP) for nearly one year, in the SQL Server discipline. This allows me to connect more deeply with the great minds and kind hearts in the MVP community and at Microsoft. One day, I hope that I won't be as tongue-tied when I meet the other MVPs that I've admired for such a long time!"
1) Can you take us back to your "eureka!" moment—a particular instance or event that got you interested in technology?
When I was eight years old, my Uncle gave us a computer that he'd fixed. It was a little Sinclair ZX81, and I loved it. I learned to program in BASIC, and my love of technology has been with me ever since.
2) Growing up, did you have any preconceived perceptions of the tech world and the kinds of people who lived in it?
My perception of the tech world was shaped by older males in my family, who took the time to involve me in all things electronic and computer-focused. For example, my grandfather was one of the first television engineers, and continued to be impressed and excited by technology until he passed away in his mid-eighties.  One of my great uncles was a spy during the Second World War, and worked to code-break Japanese codes. Their experiences combined to influence me, and continue to do so until this very day.
3) When did you first consider a career in technology? What did you envision doing?
Initially, I wanted to train as a psychologist and I had a specific interest in cognitive psychology. I used my programming skills in order to set up psychological experiments and I found that I preferred it to psychology.
I moved into Artificial Intelligence, moving from my cognitive psychology and programming background. I was fascinated by the algorithms that attempted to further research into human cognitive processes. I still see Artificial Intelligence alive and well, but in a different guise (e.g. search technologies).
4) Did you experience any personal or systemic setbacks at any point of your academic or professional career?
In the first two years of my son's life, he was critically ill on occasion. At some points, he was given an hour to live. His illness was a constant stress, and I obviously couldn't work as he recuperated. I'm glad to say that he survived, partially due to his own tenacity and zest for life. I'm very grateful to the doctors and nurses who saved him, despite the odds.
5) Whom do you look at as mentors and/or sources of inspiration in your field?
I am inspired every day by people in the community, particularly the Professional Association of SQL Server (SQLPASS) community. There are a huge number of selfless volunteers who give up their time to create training material, give presentations, and provide help and support to people who are on the path to learning SQL Server.
6) How has your participation in both the on- and offline SQL Server communities changed the way you look at and work with these technologies?
I've learned a lot about business benefits and perspectives from interacting with people in the community. Someone might ask a question which seems strange, but when you start to understand the 'why' of the question, it becomes clear that there may be a strong business reason for doing something, even if the proposed technical response seems strange.
I've met members of the Analysis Services, Excel and Reporting Services teams, and I'm hugely impressed with their dedication and innovation to provide high-quality products and solutions that SMEs can afford.
7) Why do you think the rate of attrition for women in software engineering is higher than that of women in most other tech fields?
I'm not sure if this is the case, cross-culturally. From my own experience, the issue is perceptions about returning to a technical role after maternity leave. Women leave the field for awhile, and then lose confidence to come back to technology since the tech world has moved on so fast. I have to say that, after returning to work after having had my son, women should not lose confidence in coming back to technology after having had a child. Remember most of the guys you work beside are also parents. The technical skills are transferable to newer versions and editions.
8) Do you have any suggestions for how to get more girls interested in computers and computer science? Is this important to you?
I think it is important to show girls that technology can help people. For example, Microsoft uses technology to help girls across the globe, in partnership with UNESCO.
Don't dismiss girls from technology, at an early age. Teachers need support in the classroom to make sure that girls also get attention and equal education in subjects such as math, computing science and so on.
Related posts: